Psssst! We can get Tsukiyoi's all songs through the iTunes Store in 56 new countries.
The additions nearly double the number of countries in which the iTunes Music Store operates.
– Europe: Belarus, Moldova, Russia, Turkey, Ukraine – Africa, the Middle East and India: Armenia, Azerbaijan, Bahrain, Botswana, Burkina Faso, Cape Verde, Egypt, Gambia, Ghana, Guinea-Bissau, India, Israel, Jordan, Kenya, Lebanon, Mauritius, Mozambique, Namibia, Niger, Nigeria, Oman, Qatar, Saudi Arabia, South Africa, Swaziland, United Arab Emirates, Uganda, Zimbabwe – Asia Pacific: Fiji, Indonesia, Kazakhstan, Kyrgyzstan, Micronesia, Mongolia, Nepal, Papua New Guinea, Tajikistan, Turkmenistan, Uzbekistan – Latin America and the Caribbean: Anguilla, Antigua and Barbuda, Bahamas, Barbados, Belize, Bermuda, British Virgin Islands, Cayman Islands, Dominica, Grenada, St. Kitts and Nevis, Trinidad and Tobago That brings the iTunes store count to a total of 119 countries. Hey Apple, You Did It!!
1. Open your iTunes on your PC.
2. Type "Tsukiyoi" in the serch box
3. Well done!!!
 In russia, like this…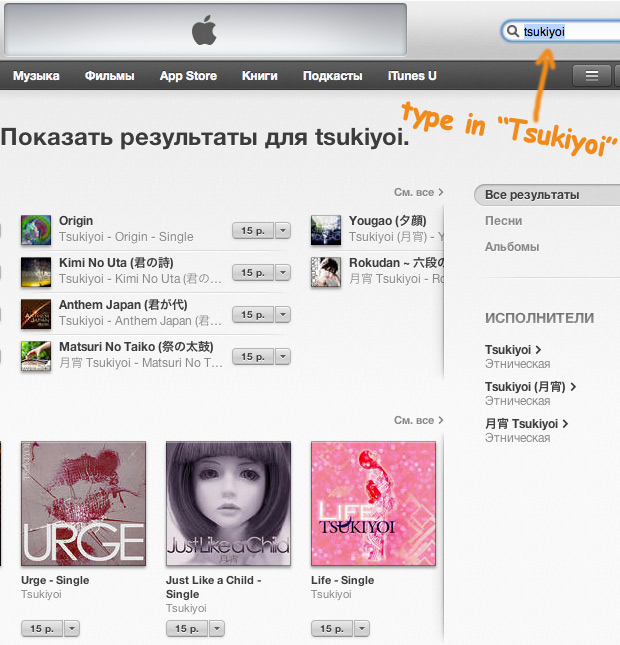 今年7月末のアジア拡大に引き続き、またもやAppleがやってくれました!
iTunes Music Storeの国数が一気に倍近くに!
月宵にいいね!してくれたロシアやトルコの方、インドやインドネシアの方にも、これで少しは届きやすくなるかな。
今回は発表と同時にTsukiyoi Tunesも全曲並んでいます、もちろん新作のLifeまで!
なんか突然サンタさん来た感じでちょっと嬉しい。
---